As I sing at the top of my lungs, completely out of tune, a friendly face came to join me. It belongs to Dalton.
In looking at his goofy grin and recognising his important presence, it brought me back to the moment he joined the family and what it gave us.
You see, Dalton showed up here, in January 2012 at a time we needed him and he needed us.
JM had had his last brain surgery and had regained some of his losses. By that January, he was much more functional. I got broken a month before and was much less functional. Lisa was away at university and Alex was going to Cegep.
We connected to Dalton in the want ads. He needed a place to live and we had the space so I called the number. I thought we would have a chance to meet but did not realise it would be the same afternoon.
The pickup truck stopped in front of the house and out jumped Dalton.
He was bigger, taller then he had seemed in the picture in the want ads.
He moved in at the moment we met.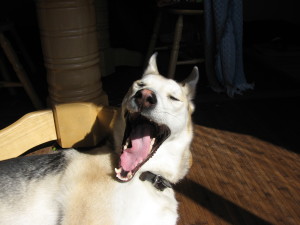 He brought us a level of energy that we needed after the crazy ride we were on. He was great companionship for our puppy Tux who had just lost her mate of over 10 years.
He came to our home so skinny you could see his ribs and his back bone. His previous master explained that he was worried Dalton was possibly suffering from depression following his family's divorce. He had stopped eating and even drinking. As the man told us, we looked down to Dalton drinking from Tux's bowl. That is when we all understood, Dalton was to live with us. He had found his home.
We all needed Dalton and he us.
We, especially the men, were able to focus on this goofy huge puppy. He gave us a place to look at and antics to laugh at.
He gave us his trust and his companionship. He shared his energy and his silliness. There are no regrets of having him join the family even on the days he somehow got the chocolate off the top of the fridge or when he ate all the newly bought turtle food.
Though our society views us as owners of these critters, relationships are definitely two sided: they give back sometimes more than you can imagine.
I have seen these hairy angels light up faces and connect to souls that would forget their pain and sadness if only briefly. The physical contact that ensues feeds both in the exchange. Sometimes the hairy angels have the incredible power of getting his human up and going in the morning.
We are lucky that our critters live with us. We get their joy and celebration daily. For people dealing with loss of abilities or illness, zootherapies are often brought but for a brief part of the day in certain centers. To watch the faces of the recipient of the hairy love light up is a clear indication of how these angels have their place.
Today I must honour all of the puppies who have cuddled up to us or danced for joy because we simply came home:
Warm thanks to Princesse, Snoopy, Tux, Brutus and our goof, Dalton.